VCT Care 101: Professional Floor Care Done Right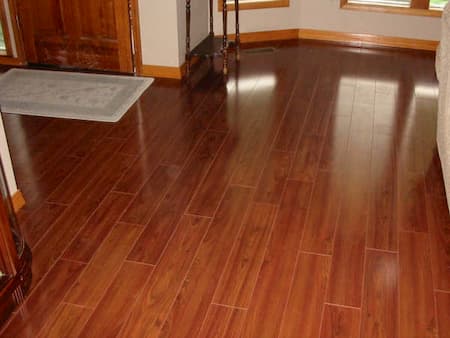 Walk into virtually any commercial facility today and odds are pretty good the floor under your feet is vinyl composition tile (VCT). VCT has proven to be a highly popular flooring choice because of its durability and ease of maintenance. But in order to sustain its durability and be reasonably scratch resistant, VCT needs to be cleaned regularly and maintained properly. Additionally, VCT requires protection, and a polyacrylate floor finish creates a "renewable, repairable, restorable" wear layer that can be used to maintain the beauty and clean, shiny appearance that people want to see in a floor.
Thus, a primary goal for maintenance professionals is keeping VCT floors clean and looking their best, which helps extend the life of the floor. However, accomplishing this goal is fraught with challenges, such as constraints on time, budget and personnel.
Commercial and Industrial Cleaning professionals increasingly find themselves having to do more with less. In the 2009 "Cleaning in a Down Economy" industry survey conducted by Procter & Gamble Professional™, 85 percent of cleaning professionals indicated that they have adopted a "doing more with less" approach, placing greater emphasis on staff productivity and cleaning efficiency. Choosing the right cleaning products can help deliver the better floor appearance, less labor, and potentially lower costs.
Maintain Floor Appearance While Minimizing Labor And Cost
Simply put, sticking to a regular maintenance schedule and using the right cleaning products are the best way to maintain the look of any VCT floor. Below are tips for maintaining VCT.
Proper matting: Use walk-off mats at all entryways to help keep floors clean and dry longer; however, it is vital that these mats be cleaned regularly.
Daily cleaning regimen: Involves sweeping and dust mopping dirt and soil off VCT surfaces, a crucial step to prevent damage to the tile finish. Then, damp mop or auto-scrub floors using a neutral-impact cleaner to remove particulate left behind. Once clean, the entire floor should be rinsed with clean water and then allowed to dry thoroughly.
Recoating: Depending on VCT maintenance or the amount of foot traffic at a particular facility, it is good practice to periodically recoat the finish. Following a deep scrub of the VCT to remove soil build-up, reapply a high-quality commercial floor polish. Failing to ensure that there are three-to-five layers of protective finish means risking potential damage to the tiles from embedded soil that can eventually result in poor appearance, and ultimately the need to replace the flooring.
Routine maintenance: It is important to routinely strip off the wax that has built-up from repeated maintenance in order to apply a fresh finish. The VCT should be scrubbed with an effective stripping agent, but note that most flooring manufacturers recommend not using an aggressive stripper on VCT that is less than two years old, as it may weaken the adhesive bond. After the stripping solution has been applied, it should be carefully removed with a wet vac or auto-scrubber vac. Then, the floor should be rinsed with clean water and allowed to dry before three-to-five coats of floor polish are applied to complete the process. However, this step can be skipped if a no-rinse stripping solution is used, offering added savings in time and effort.
Scrubbing pads: It is important to use the appropriate scrubbing pad for regular VCT maintenance. Use a red pad for light scrubbing, and blue or green pads for deeper scrubbing. Brown or black pads are more abrasive and not typically recommended as they may cause damage to the VCT surface. However, Procter & Gamble Professional's recent consumer research study reveals that professionals sometimes use black pads to deep scrub VCT in order to further delay the need to strip.
Choosing The Right Cleaning Products Makes A Difference
To ensure the best results from a maintenance program, use a neutral-impact cleaner that is designed to be used on VCT. This cleaner should be extremely effective in removing a broad range of abrasive particulates from the surface of the tile in order to achieve a uniformly glossy, clear and bright appearance. The No. 1 cause of dulling, or wear, is soil that has been left behind by the cleaner. Additionally, choose a cleaner that is designed to be used with a specific finish. If the cleaner and finish are compatible, then the life of the floor can be further extended.
When it comes to selecting the right floor finish product, maintenance professionals need to have a thorough understanding of a facility's need and the product's features. Environmental factors, such as temperature and humidity, will impact how much time is required by the finish to dry completely. Choose a product that is formulated to dry and cure well in a wide range of environmental conditions. Lastly, consider the product's durability and its capability of providing a lasting shine without frequent buffing or burnishing.
In choosing the best stripping product for the job, it is important to select one that is highly effective, while still being safe. The right stripper should remove the finish completely the first time, eliminating the need for reworking areas to achieve proper levels of cleanliness before the new finish can be applied. This can help save time and money.